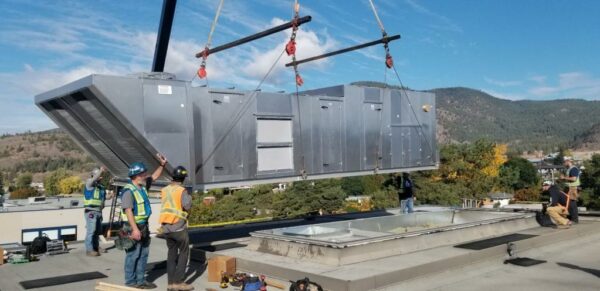 Care Systems Services Ltd. were chosen once again by a valued customer to get the job done on a tight timeline. The team were prepared and ready to do their part when the truck arrived for the removal and installation of an Air Handling Unit.
Lead Electrician, Jason Runnett and Apprentice Josh Turner arrived proactively to take inventory of the existing controls installation. Through careful planning and stakeholder analysis they set a plan to meet their clients expectations. Arriving early they ensured that each controller, wire and actuator were identified and labelled prior to decommissioning. Also, finding a few sensors that needed replacing they called back to the shop to have them pulled from stock and staged for pickup.
"Downloading the new program prior to the decommissioning ensured we would be able to get the control system up and running as soon as they powered back up", said Jason.

HVAC Services Manager, Daryl Smith and Apprentice Shawn Chapman were also on the site to install the new gas piping for the Air Handler. They arrived earlier in the day to remove refrigerant and oil from the compressors. Additionally they installed a shut off valve to isolate the gas line for removal while keeping the gas supply to the emergency generator operational.
Working into the night with headlamps and overhead lighting the team were able to ensure the new unit was re-connected, commissioned and operational ahead of schedule.
Additionally, the techs left spare fuses and vacuumed the area to ensure customer satisfaction.

The Choice is yours to make and by choosing Care Systems Services Ltd. you get the best in the industry.
Sharing is Caring
Share this on your favourite social media networks